On Friday, January 21,
Chelsea Opera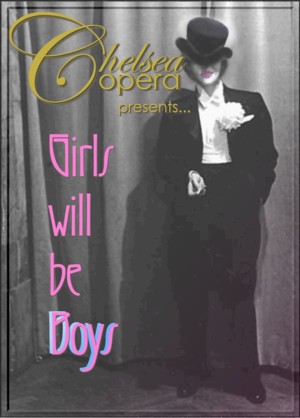 presented a program entitled
Girls Will Be Boys
at dear Christ & St. Stephens Church on Manhattan's Upper West Side, an honorable venue for music making. An entire evening of arias and other opera excerpts featuring female singers as male characters. In the hands of someone like Joyce DiDonato, who herself has a CD entitled
Diva Divo
that is to be released this very day, on which CD she sings arias by male and female characters from the same operas, one would expect this to be a joyful experience.* In the hands of singers on an "emerging artist" professional level, one would expect exactly what was presented Friday night--a program with a little bit of student-level singing, a lot of pretty good singing, and a few standouts who inspired excitement.
The programming had some surprises, most of them pleasant. In addition to the expected "Che faro senza Euridice" and "Non so piu", etc., we were also treated to less predictable fare like the duet "Pur ti miro" from
L'Incoronazione di Poppea
(with a mezzo as Nerone) and Smeton's aria from
Anna Bolena
. One wondered, however, whether all of these women have these arias in their current repertoire, ready to be asked to do a pants-role concert, or whether they were curiosities from the past that the singers no longer use but were able to resurrect in order to perform something, anything, in front of a paying public. In a few cases, one hoped it was the latter.
The singer who left the biggest impression on me was soprano Elizabeth Beers-Kataria, who sang "Abscheulischer, wo eilst du hin?" from Mr. Beethoven's Fidelio. The scene is sung by Leonore, disguised as a man to rescue her husband, a political prisoner. Ms. Beers-Kataria sang beautifully and certainly kept the audience riveted with her performance. Hers is a beautiful voice, but I don't believe she's a Leonore. Her voice is much too lyric for Leonore, which requires a bigger, weightier sound.
I quite liked Erika Person, who was featured prominently. She sang two arias and a duet during the evening, and I think it was a happy accident of programming that the order showed more and more of her high voice as the night wore on. The last aria she sang was from Mr. Handel's
Giulio Cesare in Egitto
, and on hearing the interpolated high notes in the
da capo
, I thought "Ah! We finally hear this woman's real voice!" Ms. Person is a soprano who sings beautifully, and in fact, should have sung Ilia in the Ilia-Idamante duet she sang with soprano Kember Lattimer, not Idamante. (Ms. Lattimer sang Ilia well, although her voice is light for the role.)
Kirsten Allegri was exciting to watch, and sang beautifully, if occasionally a bit throatily. (Is "throatily" a word?) She sang an aria from
Mitridate, re di Ponte
and the aforementioned Smeton aria. Kimberly Sogioka gave us fine Composer's aria from
Ariadne auf Naxos.
I would like to have heard more of very fine mezzo Erika Hennings (who is a personal friend, so I won't gush) and soprano Sarah Hoeppner, both of whom seemed under-utilized in this concert.
I was chatting recently with a coach/conductor friend who has spent a lot of time in German-speaking opera houses. He told me how frequently young singers ask him for his opinion of, among other things, their German. His most frequent opinion, he told me, is that it sounds phonetic. Like something learned as an exercise. It sounds like the singers don't have a deep understanding of what they're singing, which can only come from knowing the language. I have to say that I had the same impression a number of times on Friday night with every language.
I am not one who thinks arias and duets should be performed exactly as if they were staged excerpts when presented in concert. Yes, if you're singing "Mira, O Norma", embrace as friends. If you're singing a love duet, you don't want want to ignore your love interest in favor of the conductor, your boyfriend in the fifth row, or the exit sign. But mezzos, I beg of you--it doesn't matter if Franco Zeffirelli, Jonathan Miller, and Charles Gounod himself all tell you to do it--
resist the urge to mime picking flowers while singing "Faites-lui mes aveux"!
Is there a guidebook for female opera singers that tells them to wear vests or blazers and to slick back their hair if they're singing arias from pants roles? One wonders sometimes. If there is, stop it. I'm tired of black pants. Even in Manhattan. Don't make me call out my
Sassy Gay Friends
for this. I've done it
before
! Congratulations to the girl who wore black pants with a vibrant blue top that left no doubt that she is a beautiful woman!
These few quibbles aside, I will say I quite enjoyed the concert. I hope to hear much more of quite a few of these singers.
Great. Now I can't get "Voi che sapete" out of my head!
*Should Joyce's people be reading and wish to provide me with a copy of her CD, I'll happily write about my impressions, but rest assured I am quite confident it is glorious.